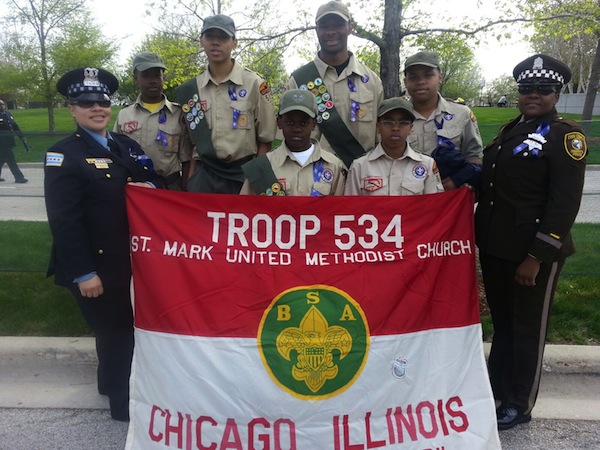 Members of Boy Scout Troop 534 "Hey!" participated in the annual St.Jude Police League Memorial March on Sunday, May 5, 2013. Video
Note: The two police officers in the photograph are mothers of Troop 534 "Hey!"
The parade took place in the Gold Star Memorial Park located near Lake Michigan at McFetridge Dr. The park is a tribute to fallen and injured Chicago Police Department officers.
The park includes a marble wall with names of the fallen, called the "Sacrifice Space" & names of the injured called "Living Sacrifice".
The parade is done annually to honor fallen police officers from:
Illinois State Police
Cook County Sheriff's Police
Chicago Police Department
The officers march as a sign of unity for the comfort & solidarity of the surviving family members who come to view the march. This is your true "Band of Brotherhood". The officers wear a black band across their star as a sign of & paying respect to a fallen officer and a blue ribbon is given to each participant to wear as tribute. All officer, dedicate their lives to serving and protecting the state, county, city and citizens of Illinois.